Laminate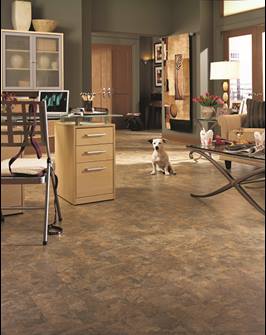 Laminate is made to replicate the appearance of hard surface flooring. Constructed in layers, laminate features a high resolution image layer that gives the floor its appearance. Laminate can take on the appearance of hardwood, tile, stone, and much more. The core layer of fiberboard is made of high-density recycled wood fibers that have been saturated in resin, giving the floor its stability and moisture resistance.
Laminate's wear layer is made of melamine resin and aluminum oxide, making the floor extremely durable. The wear layer will protect the floor from scratches and dents and increase its structural integrity. In some laminate floors, the wear layer is also pressed with metal plates to give it a textured look and feel. Some less expensive options have random textures pressed onto the surface while higher-end products use computers to match the texture of the surface with the pattern on the image layer, known as registered embossing. Registered embossing on a high-quality image of hardwood makes it very tough to distinguish the difference between a laminate board and an engineered hardwood board!
Laminate floors feature a click and lock system that makes the floor easy to install without the need for nails, staples, or glue. This means that most laminate floors are installed as floating floors, which means you will save time and money now on your floor's installation and later should you decide to replace your floor.
Come to Monarch (1953) Carpet One Floor & Home in Edmonton, AB to see some samples of laminate floors and speak with one of our experts about what floor is right for you!